Bio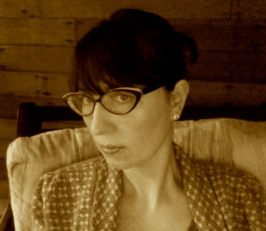 Reb Livingston is the author of Bombyonder (Bitter Cherry Books 2014), God Damsel (No Tell Books 2010), Your Ten Favorite Words (Coconut Books 2007), among other titles. Her work appears in literary magazines and anthologies such as The Best American Poetry 2006, Devouring the Green, The Rumpus Original Poetry Anthology and From the Fishouse.
Reb is the Misfit Documents Editor and a contributor to Queen Mob's Teahouse and curates the Bibliomancy Oracle. She was the editor and publisher of No Tell Books.
From 2004-2011, Reb and Molly Arden edited No Tell Motel, an online poetry journal devoted to meaningful and discreet poetic encounters, and the The Bedside Guide to No Tell Motel anthology series.
Interviews with Reb are available at The Library of Congress (audio), Bookslut, Out of Our Minds with J.P. Dancing Bear (audio), Galatea Resurrects, The Coachella Review and HTMLGIANT (with Ryan Call) and (with Rauan Klassnik). A complete list of interviews can be found here.
Audio of poems can be heard at Internet Archive (Bard College), PennSound, Emergency Reading Series, Out of Our Minds (91.5FM KKUP), The Joe Milford Poetry Show and From the Fishouse.
Born and raised in Pittsburgh, Pennsylvania, she now resides in the greater Washington, D.C. area with her husband and son. She has Creative Writing degrees from Bennington (MFA) and Carnegie Mellon (BA). Once she worked for America Online. Although that was a long time ago.